AGREEI Meeting with the President of the Republic of Kosovo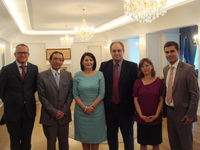 On July 6 the Board of AGREEI composed of President Adrian Shehu and members Günther Fehlinger, Blerim Reka and Shqipe Pantina, was welcomed in Prishtina by the President of the Republic of Kosovo Atifete Jahjaga.
This meeting which took place in a friendly environment aimed at presenting AGREEI, the Balkan Benelux concept and the ways in which this concept might be applied in the case of the four Southern Balkans countries: Albania, Kosovo, Macedonia and Montenegro.
An analysis of the actual situation of the SB countries as well as of the advantages that the implementation of this concept would bring to each of them was made. Among to these advantages belong: the creation of a bigger common market for products and services of companies from these countries, a better coordination in potential cases of the common development of infrastructural projects which strengthen the independent position of the countries in the region as well as a better integration in the European infrastructure, and a coordinated management of the efforts for a faster integration in the European Union and Euro-Atlantic community.
Regular communication with the office of the President of the Republic of Kosovo will be established as result of this meeting to exchange information on latest developments related to AGREEI and the Balkan Benelux concept.